Jody Peugh, Massage Therapist. 426-6450 or 426-6259. Appointments available in our office.
Jody graduated in 1984 from Cypress Health Institute here in Santa Cruz. Since that time, Jody has developed her own blend of Swedish, deeper work, Reiki, Trager, Reflexology and several other modalities. Her work is based on her belief that relaxation is key in promoting healing. Her work compliments Dr. Smith quite well, promoting release and relaxation to allow his adjustments to be accepted more deeply into the body.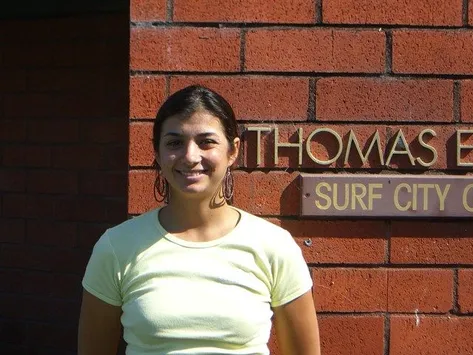 Laura Albrecht RYT 200, is an Ashtanga Yoga Teacher certified by the Ashtanga Yoga Institute at Mount Madonna. Her style blends classical Ashtanga (eight limbed) Yoga with more vigorous Hatha and Vinyasa styles. She has also studied with Gene Couch at the Balance Center in Palo Alto. As a former Division I soccer player and competitive athlete, Laura looks to build balance and stability in the body to reduce injuries. In addition to building body awareness, she emphasizes maintaining focus and calm in the breath and mind. It is her belief that practicing yoga can bring a new sense of awareness when doing the activities we love, improving our quality of life on physical, mental, andemotional levels.
Laura looks forward to working with Dr. Smith and the staff at SurfCity Chiropractic to educate patients about posture and body awareness from a yogic perspective. Check out her monthly column on the website!
Laura teaches weekly yoga classes at Pleasure Point Fitness and Dance Center and offers free community classes in her backyard. Go to www.pleasurepointfdc.com for more information or email her with any questions [email protected].